What Is An AeroGarden?
The Miracle Gro AeroGarden is a high tech aeroponic system, a unique indoor growing device where plant roots are suspended in air, but totally soil-free. It's an advanced combination of both aeroponic and hydroponic systems and the only difference between the two is that the roots in a hydroponic system are placed into a foam type material that replace the soil.
This amazing device grows 5 times faster than plants growing in the best quality potting soil. The Aerogarden roots grow freely in a highly oxygenated chamber with 100 percent humidity whilst bathing in the ideal amount of water and nutrients. This high performance indoor gardening system will give you a 100% germination guarantee and creates a healthier, faster growing environment for your plants than gardening soil.
The assembly is simple. The base of the AeroGarden contains the electronics with an adjustable height setting arm extension that plugs into it and the seed pod cylinders are placed into the round slots within the top section of the water reservoir. The base of the hood section has a reflective coating that scatters light using two daylight spectrum bulbs and the hood simply clicks into the extension arm.
The advanced interactive LCD Control Panel will remind you when water and nutrients need to be added and will automatically turn the Grow Lights on and off for maximum growth but, for the advanced growers they can choose to fully customize their very own functions. In addition, this high tech system uses much less energy than the 60-watt light bulb. 
How Does AeroGarden Work?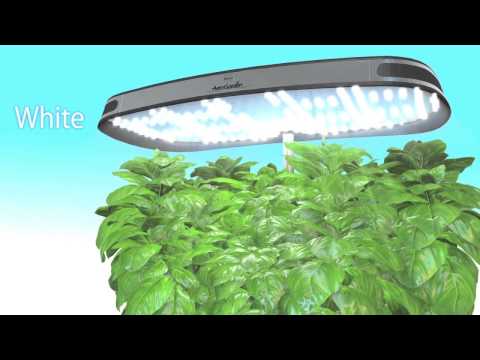 What Can I grow With AeroGarden Grow Pods?
The Miracle Gro AeroGarden Seed Pod Kits come with a huge variety of the best pre-selected Herbs, Salad Greens, Vegetables, Fruit and Flowers and the preparation process is as simple as 1,2,3. Just insert your pre-seeded  grow pods into the round slots, add water and then add the liquid nutrients. It's fun and it can't get any easier than this. 
Most of your indoor growing will take 7 to 14 days to germinate and harvesting will be ready within 4 to 6 weeks. The benefit of your new indoor garden is it just keeps on growing plants and producing harvests for up to 6 months or more.
One of my favorite Seed Pod Kits is the 14 pod Salad Lover's Seed Kit because it contains a vast selection of different flavors and colors, featuring: Salad Greens (2), Mustard Greens (1), Baby Greens (2), Cos Lettuce/Romain (2), Mesclun (2), Mizuna (1), Rocket/Arugula (1), Chinese Cabbage (1), Rosette Bok Choy/Tatsoi (1) and Upland Cress/American Cress (1).
How To Clean Your AeroGarden
Believe it or not, the best gardening tip on how to clean your Miracle Gro AeroGarden is to read the Manual. The Quick Start Training Guide contains a ton of information with easy to understand instructions and simplified pictures. Keeping your indoor garden clean is very important, even without the garden soil and with minimal housekeeping, you can keep it that way.
Always remember that as your indoor garden grows there will be residue from the specially formulated nutrients, mineral deposits and bugs, so make sure you change the water every few weeks, otherwise you will find mineral deposits accumulating inside, including the pumps which can cause eventual pump failure.
To prevent dust and other grime from building up on the surface and permeating into your plants, simply wipe down the top of your AeroGarden every week or so. Always clean dead plant leaves that fall, otherwise they will stick to the surface causing a stain. With a little effort, not only will your garden look impressive, it will keep performing for years to come.
AeroGarden Indoor Gardening Supplies:
Aerogarden Systems
Combination Packs
Grow Bulbs
Replacement Indoor Grow Light Packs
Replacement Grow Sponge Packs
Replacement Pump & Filter Packs
Seed Pod Kits
Seed Starter System Refill Packs
UltraGrow Liquid Nutrients – AeroGarden Compatible
Universal Basket Packs
Universal Seed Starter System
Where to Buy Miracle Gro AeroGarden Supplies: Click Here